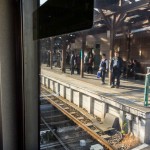 So, after riding the Enoden for a few minutes, it was time to get off at the station in Hase town, where the Great Buddha (Daibutsu) of Kamakura is situated. Like most of the towns along the Enoden, Hase is a tourist town, making the most of the local attraction. A lot of tourists come because of the Buddhist aspect, and a lot more come just to gawk (yeah, I'm guilty of the latter.)
Not being Buddhist myself, I didn't get the spiritual feeling, but as a techie, to me the Great Buddha is an impressive engineering feat! Cast in bronze sometime in the 13th Century, the statue is hollow, allowing people to go inside for a mere 20 yen (about 30 cents US).  The temple grounds around are also very impressive, with sculptures both man-made and natural.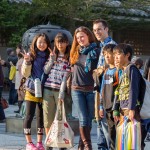 This day was particularly fun, because there was a tour group from an elementary school, and some of the kids were split up into groups, each group assigned to speak to a foreigner in order to practice their English.  The group that approached me and my buddy John did a very good job of introducing themselves, asking if they could ask questions, and handled their English fairly well.  The questions were basic, "Where are you from?" type questions.  It was fun watching them "ambush" other foreigners, too, although I have to wonder if all of the foreign tourists spoke English.  
So, here is the gallery of photos I took in and around Hase and the Great Buddha of Kamakura.